How to choose indoor trampoline park equipment manufacturers
---
Today, people can easily obtain information from the Internet and purchase products through major online shopping platforms, instead of relying on local agents. However, this does not mean that we have been able to easily enjoy the direct supply from the original factory, because some online information is still occupied by various agents. They have not disappeared, but have just shifted their positions.
For example, buying indoor amusement equipment through indoor trampoline park equipment suppliers will definitely have a certain percentage of premium, technical support is not so in place, and there is at least one more process for after-sales response. The situation is even more serious if it encounters end-to-end dealers with layers of agents. Essentially, the survival of intermediaries depends on the profits they make from investors. However, due to the huge investment cost of indoor trampoline park projects, it is particularly important to find indoor trampoline park equipment manufacturers, reduce intermediate costs, and enjoy better products and services.
So, how to find the real indoor trampoline park equipment manufacturers? Find out below.
1. Look at the scale of indoor trampoline park equipment manufacturers

Indoor trampoline park equipment manufacturers are mainly engaged in trampoline parks, sports parks, outdoor unpowered amusement equipment, outdoor expansion, indoor expansion and other amusement facilities. The factory covers an area of ​​5,000 square meters and has nearly 200 employees. It has iron, stainless steel, wood, PE board , rope net, rotomolding, blow molding, glass fiber reinforced plastic, soft bag and 9 major production workshops.
2. Look at the qualifications of indoor trampoline park equipment manufacturers

Most of the intermediary agents do not have the qualifications for equipment manufacturing, and most of them conduct business in the form of trade. The business scope of the real source manufacturers will definitely include the production and manufacture of amusement equipment.
3. See if indoor trampoline park equipment manufacturers pass the third-party inspection

Factory audit is also called factory audit, commonly known as factory inspection, which is simply understood as entrusting an independent third party to visit the factory to inspect the factory on the spot. Verify and review the scale of the factory, workshops, employees, production equipment, and technological processes throughout the factory.
4. On-the-spot inspection of indoor trampoline park equipment manufacturers

Seeing is worse than seeing it. False or magnified publicity effects are the consistent characteristics of domestic companies. There is a lot of hype on the Internet. Without the premise of on-the-spot inspection, everything is like a bubble, such as leather bag companies, trading companies, small workshops, etc. These are all reasons why you have to go on a site visit. One of the most effective and core measures among many different source manufacturers is to visit on-site. In addition to seeing the size of the factory, workshops, production lines and other hard powers, on-site inspections can also experience soft power such as management, teamwork, and service.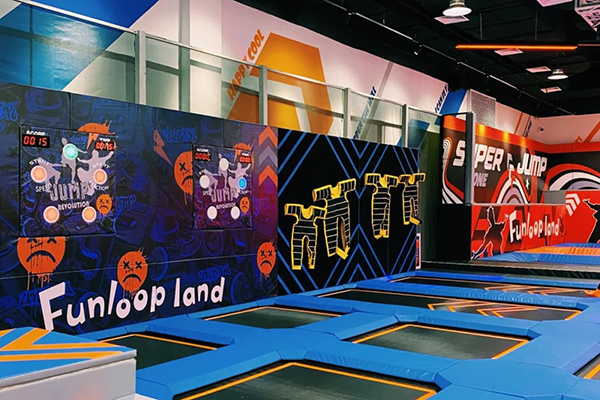 Relative News