Ninja warrior game is an adrenaline pumping race through a maze of walls, obstacles with adjustable difficulty, high absorption safety flooring(foam mats, inflatable mats or foam pit), and trampolines with different action zones. It is designed to incorporate running, jumping, vaulting, climbing to challenge and improve strength, endurance, coordination, agility, and balance. It creates a fun adventure while providing an amazing workout effect.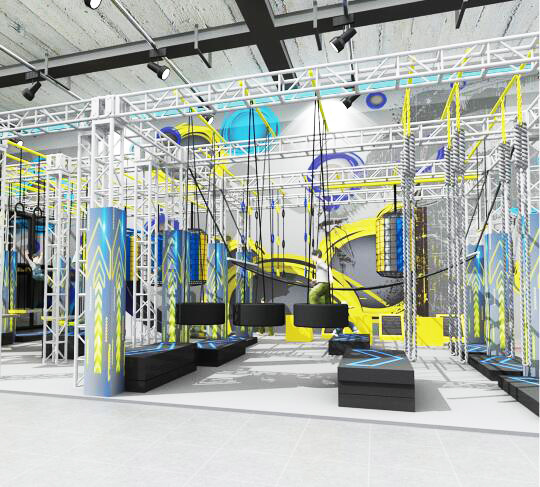 Ninja warrior game are the latest trend hitting the indoor playground industry, and they are unquestionable to be great addition to your current FECs, themed parks, amusement parks and trampoline parks. They can be built for both indoor and outdoor areas.
Cheer Amusement is always stand in the forefront of the industry!
Cheer Amusement offers comprehensive indoor playground solutions from initial design, manufacturing, installation, to after-sales services. As the first indoor playground equipment manufacturer in China to obtain both certificates under US and EU safety standards in the entertainment industry, we have built over 10,000+ indoor play structures all over the world in a variety of venues including FECs, indoor parks, kids parks, amusement parks, shopping malls, and more. Cheer Amusement and its highly skilled team of professionals always thrive to help you stand out in your indoor softplay and adventure park market!
Ninja Warrior has become increasingly popular as a challenging and engaging way for people of all ages to engage in physical activity. The Ninja Warrior Game by Playground.cn is an excellent option for businesses or individuals looking to create a fun and exciting ninja warrior course.
The Ninja Warrior Game by Playground.cn includes a variety of obstacles that are designed to challenge participants' strength, agility, and endurance. These obstacles can include the warped wall, salmon ladder, spider climb, and more. The materials used to make the obstacles are durable and safe for people of all ages to use.
One of the benefits of the Ninja Warrior Game by Playground.cn is its ability to promote physical activity and fitness. People of all ages can engage in different obstacles, which can help to improve their physical health and well-being. This can be especially important for children who may not have access to outdoor play areas or structured sports programs.
In addition to promoting physical activity, the Ninja Warrior Game also encourages mental toughness and determination. Participants must develop a strategy and persevere through each obstacle to complete the course. This can help to improve their problem-solving skills and resilience.
Another advantage of the Ninja Warrior Game by Playground.cn is its customization options. Playground.cn offers a range of ninja warrior structures that can be customized to fit any space or theme. This makes it easy for businesses or organizations to create a unique ninja warrior course that meets their specific needs.
Overall, the Ninja Warrior Game by Playground.cn is a fantastic option for anyone looking to create a fun and engaging ninja warrior course. With its focus on physical activity and mental toughness, as well as its customization options, it is sure to be a hit with people of all ages.